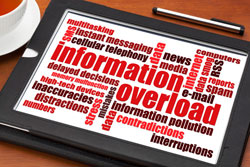 October 18 is Information Overload Day, an awareness day promoted by the Information Overload Research Group since 2010 to raise awareness of Information Overload.
This is a good opportunity to take a hard look at your email and communication practices, and make some decisions that will improve your state for the better in the coming year. There are two kinds of steps you can take: improving how you process your own email, and reducing the burden on your coworkers by making the email you send out more effective.
To help you with this, here are some useful resources to consider:
Have a wonderful IO Day!