Welcome! I'm Nathan Zeldes, and I help knowledge-based organizations prosper in this exciting, hyperactive, brave new world that empowers and threatens their effectiveness at the same time.
I was lucky to mold a career where I was allowed to invent my jobs to fit my vision. I started as an applied physicist, became a forensic scientist, joined Intel as an engineer, and navigated a 26-year career in that amazing company in engineering and management jobs, much of it as an IT Principal Engineer specializing in guiding worldwide adoption of new IT tools and innovative work paradigms. It was an exhilarating ride!
Then in 2008 I decided to leave the cube farm and explore the world outside. I found – no surprise – that companies of every kind struggle with the same problems I'd helped Intel solve. So here I am – speaking, consulting, and doing what I like best: collaborating with smart people to solve difficult problems in a diversity of interesting contexts.
I passionately believe that work should be effective, fun and rewarding. I am offended by the fact that despite all our technology (and at times because of it) workers nowadays are hampered by constant stress and overload, neglect their life and their loved ones, and produce less value than they could. This is what I'm out to help my clients make right; evidently all those years in the trenches, driving change and innovation at Intel and beyond, left me with insights that can be of benefit to them – and possibly to you.
Need more detail? Take your pick:
Interesting? I'm glad to connect. Here:

 LinkedIn  

  Facebook  

  Twitter. And tell a friend.
Or, if you prefer, let's set time for a chat over a cup of coffee!
How I Work
I'm based in a cozy home office in beautiful Jerusalem (and work anywhere).
I travel a lot – always have – around Israel and worldwide (yes, I work globally).
I use a ThinkPad (old habit) and an Android Smartphone.
I process email only twice a day, at 8AM and after lunch. You can get me on my cell at other times.
I work with my clients in whatever way makes sense – on site, off site, via email, phone, Skype, WebEx… as long as we have open communications and we both like it.
Check here for time zone and comm details.
More of my online footprints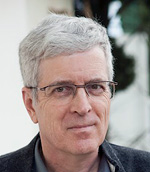 Press kit.
Download my CV
My "Track record"
WHAT THEY SAY
""Nathan brings incredible enthusiasm, dedication, and insight to Information Technology questions. He has an acute sense of productivity hobblers and enhancements, and brings his perspective to meetings, papers, forums, and colloquia in a facile and easy manner. He has been unusually effective in intercontinental projects, which is a testament to his understanding of the value and limitations of various tools."
– Chuck House, Department Director, Intel